Aragon is an community located in the north east of Spain. The north of the area contains the Pyrenees, and is very mountainous, and in places, difficult to reach. Further south, the Ebro flows east across the country. The capital of Aragon is Zaragoza, known in English as Saragossa.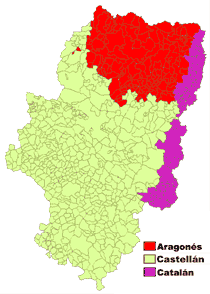 The local Aragonese language is still spoken in some more isolated parts of Aragon. Catalan is also spoken in La Franja. The Ribagorzan dialect is spoken in Ribagorza and La Litera, and a dialect similar to that of Terra Alta is spoken in Matarraña and Bajo Cinca. See the graphic re the main areas of languages.
We have 17 discount hotels listed in Aragon Community.

Just one example...
Located in Santa Eulalia
Sabiñánigo
in
Sabinanigo
Sabiñánigo, which stands on the Gállego River, has it's origins in Roman times, when it was known as Ville of Sabiniano. You can still find some of the medieval monuments, such as the bell-tower, which was built in the XVI century, and the Town Hall, which was built in XVII century. If you visit the park, you can find a reconstruction of the presbytery, part of the ruins of the Church of Gavín. It is a superb example of Serrablese pre-Romanic architecture.
Spanish Courses in the Pyrenees
in
Panticosa
Have you ever thought of taking a different kind of holiday, one which is enjoyable, exciting, and at the same time enables you to improve your knowledge by learning? Or...if you are already interested in Spanish culture and language, why not use your holidays to improve your level and get to know a different Spain and the Spanish way of life? A team of professionals: language teachers, mountain and outdoor guides and ski instructors with years of experience behind us can guarantee you first class Spanish language courses in the beautiful village of Panticosa in the heart of the Pyrenees, where the local people are welcoming to foreigners, and where you will enjoy a familiar and warm, friendly atmosphere.