The Region of Barcelona
Spain


Barcelona is an important centre of arts, media, entertainment, commerce, finance, international trade, tourism and education. It also has one of the main ports of the Mediterranean, as well as Barcelona international airport, which handles about 30 million passengers per year.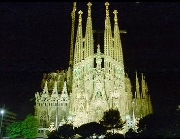 Barcelona has many city festivals, and the main events are the Festes de la Mercè, which takes place in September.

Much of the appeal of Barcelona stems from a respect for its heritage. It has one of the best preserved medieval quarters in Europe. Well worth spending some time just wandering around.