The Region of Canarias
Spain


The Canary Islands, also known as the Canaries, have the Spanish name of Islas Canarias. They are located far south of mainland Spain, close to the coast of mainland Africa. The islands include : Tenerife, Fuerteventura, Gran Canaria, Lanzarote, La Palma, La Gomera, El Hierro, La Graciosa, Alegranza and Montaña Clara.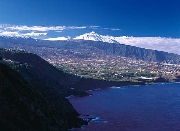 The Teide National Park and Mount Teide, which is the worlds third largest volcano, are major tourist destinations. The islands have a sub-tropical climate, with the winter having enough sunshine to tempt visitors from mainland Spain for a winter break.

The Romans and the Greeks found the Canaries, and called them the Happy Islands, Garden of the Hesperides, and Atlantida. Some historians suggest that the legendary continent Atlantis may have been located here. The islands' original population, commonly called Guanches, is tall and of white skin.

Four National Parks offering some of the most exotic landscapes in the world include the Laurisilva forests, which is a virgin laurel woodland on Tenerife, and La Gomera (the Garajonay National Park), the pine forests of El Pinar on El Hierro and the rugged heights of the Caldera de Taburiente National Park on La Palma.