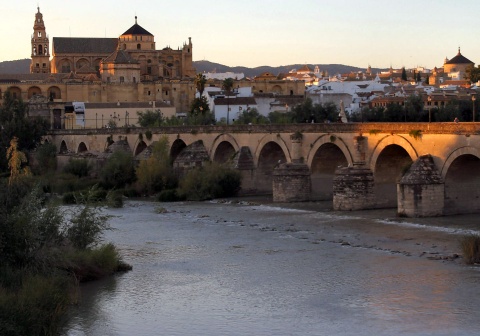 The Province of Cordoba consists of 75 towns
| | |
| --- | --- |
| Adamuz | La Victoria |
| Aguilar de la Frontera | Los Blazquez |
| Alcaracejos | Lucena |
| Almedinilla | Luque |
| Almodovar del Rio | Montalban de Cordoba |
| Anora | Montemayor |
| Baena | Montilla |
| Belalcazar | Montoro |
| Belmez | Monturque |
| Benameji | Moriles |
| Bujalance | Nueva Carteya |
| Cabra | Obejo |
| Canete de las Torres | Palenciana |
| Carcabuey | Palma del Rio |
| Cardena | Pedro Abad |
| Castro del Rio | Pedroche |
| Conquista | Penarroya Pueblonuevo |
| Cordoba | Posadas |
| Dona Mencia | Pozoblanco |
| Dos Torres | Priego de Cordoba |
| El Carpio | Puente Genil |
| El Guijo | Rute |
| El Viso | San Sebastian de los Ballesteros |
| Encinas Reales | Santa Eufemia |
| Espejo | Santaella |
| Espiel | Torrecampo |
| Fernan Nunez | Valenzuela |
| Fuente la Lancha | Valsequillo |
| Fuente Obejuna | Villa del Rio |
| Fuente Palmera | Villafranca de Cordoba |
| Fuente Tojar | Villaharta |
| Guadalcazar | Villanueva de Cordoba |
| Hinojosa del Duque | Villanueva del Duque |
| Hornachuelos | Villanueva del Rey |
| Iznajar | Villaralto |
| La Carlota | Villaviciosa de Cordoba |
| La Granjuela | Zuheros |
| La Rambla | |
Bed and Breakfast in Andalucia Spain
in
Priego de Cordoba
Casa Miranda offers guests comfortable, affordable accommodation with home from home hospitality in stunning surroundings.
Life around Iznajar
in
Iznajar
Mad Musings from your favourite B&B Guest House in Andalucia
Casitas Select Vacation Rentals
in
Cordoba
Casitas·Select offers unique vacation rental opportunities for your holidays, with more than 60 charming cottages, beautiful villas with private pool and traditional country homes located across Andalucia, in southern Spain. Whether you are looking for a country retreat on the Costa de la Luz, a villa near Granada, an off-the-beaten track destination, or a simple cottage in Nerja, you can find it here. We have visited personally all villas, country homes and cottages.
Holiday Rentals in Spain
in
Cabra
For your Holiday Rentals in Spain visit akilar.com specialising in rentals of holiday villas and apartments in Spain from the owners direct. You will find useful rental tips and holiday guides for information on dream holiday rental villas and apartments for your Holidays in Spain.
Luxury B&B Guest House
in
Iznajar
Casa La Celada is a lovely rural B&B Guest House 5 mins drive from Lake Iznájar
Casa Rowanna in the heart of Andalucia
in
Priego de Cordoba
Casa Rowanna a traditional spanish house,situated in the white washed village of El Poleo, one of Andalucia's hidden gems. Overlooking olive groves and sierras the house offers guests comfortable affordable accommodation to make your stay care free and relaxing.
For people who live in and around Iznajar
in
Iznajar
The site owners wanted to create a site that would be able to answer many of the questions that you might have - from where to go for a day out, to where find a baby sitter, where you could find a builder or electrician, or just where to buy your winter logs.
They admit that they haven't got the answers to everything yet, but if you ask them a question, they will try to find the answer for you. Also, if you have some information that you feel would be helpful please contact them and let them know.
We currently list 3 properties for sale in Cordoba province.

Just one example...
7 bedroom Property in Iznajar
Ref: 30533
- Recently reduced this amazing property which is fully licenced to rent out the cottages for guests is situated about a 10 minute drive from Iznajar, this amazing cortijo has such potential, and has been lovingly restored by the current owners to a very high standard...
Price : 721,000 Euros