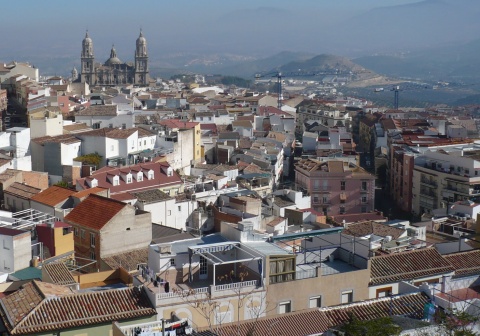 The Province of Jaen consists of 96 towns
| | |
| --- | --- |
| Albanchez de Magina | La Carolina |
| Alcala la Real | La Guardia de Jaen |
| Alcaudete | La Iruela |
| Aldeaquemada | La Puerta de Segura |
| Andujar | Lahiguera |
| Arjona | Larva |
| Arjonilla | Linares |
| Arquillos | Lopera |
| Arroyo del Ojanco | Los Villares |
| Baeza | Lupion |
| Bailen | Mancha Real |
| Banos de la Encina | Marmolejo |
| Beas de Segura | Martos |
| Bedmar y Garciez | Mengibar |
| Begijar | Montizon |
| Belmez de la Moraleda | Navas de San Juan |
| Benatae | Noalejo |
| Cabra del Santo Cristo | Orcera |
| Cambil | Peal de Becerro |
| Campillo de Arenas | Pegalajar |
| Canena | Porcuna |
| Carboneros | Pozo Alcon |
| Carcheles | Puente de Genave |
| Castellar | Rus |
| Castillo de Locubin | Sabiote |
| Cazalilla | Santa Elena |
| Cazorla | Santiago de Calatrava |
| Chiclana de Segura | Santiago Pontones |
| Chilluevar | Santisteban del Puerto |
| Escanuela | Santo Tome |
| Espeluy | Segura de la Sierra |
| Frailes | Siles |
| Fuensanta de Martos | Sorihuela del Guadalimar |
| Fuerte del Rey | Torre del Campo |
| Genave | Torreblascopedro |
| Guarroman | Torredonjimeno |
| Higuera de Calatrava | Torreperogil |
| Hinojares | Torres |
| Hornos | Torres de Albanchez |
| Huelma | Ubeda |
| Huesa | Valdepenas de Jaen |
| Ibros | Vilches |
| Iznatoraf | Villacarrillo |
| Jabalquinto | Villanueva de la Reina |
| Jaen | Villanueva del Arzobispo |
| Jamilena | Villardompardo |
| Jimena | Villarrodrigo |
| Jodar | Villatorres |
Casa Rural El Reguelo
in
Fuensanta de Martos
Holiday rental home in the olive growing province of Jaén. Peace and quiet in a rural hamlet in a great position for day trips to Cordoba, Granada and Jaén also the UNESCO cities of Baeza and Ubeda.
Rural cottage nr Alcala la Real
in
Alcala la Real
Quiet rural cottage set in the Olive groves of Jaen,Andalucia.
10 mins from Alcala la Real and 30 mins from Granada city.
Great views over the hills with private pool and roof terrace.
2 double bedrooms,fully equiped kitchen,lounge with tv,dvd etc.
Great base for exploring rural Spain Granada,Cordoba,Priego and Sevilla.
Andalucia in Southern Spain for Holidays
in
Martos
Andalucia for holidays covers region of Andalucia in the South of Spain. This covers from the Mediterranean Sea in Almeria to the Atlantic Ocean and Portuguese coast of Huelva, it's as diverse as its size with over 800 miles of coastline, from small rocky coves to long golden sandy beaches.
As a holiday destination Andalucia has more than enough to cater for every whim. This is the home of sherry, fiestas, music and flamenco. Vibrant sun-scorched cities offer their fascinating history and an education that spans the centuries of conflict between different races.
Jews, Moors, Romans and Visigoths all left their mark during the turbulent years and have produced a culture and way of life that every visitor falls in love with.
Cortijo Los Abedules
in
Cazorla
We at Los Abedules are a family run business offering self catering apartments intent on creating a comfortable, relaxing and peaceful environment to ensure you gain maximum benefits during your stay with us. We are able to offer numerous forms of pursuits.
We currently list property for sale in Jaen province.

Just one example...
4 bedroom Property in Martos
Ref: 30353
- Central But Quiet Location In This Much Sought After Town Of Martos This Bargain Is Ready To Move Into! There Is An Entrance Hall, Fitted Kitchen Leading Down To A Bathroom And Two Sitting Rooms All On The First Floor...
Price : 26,000 Euros