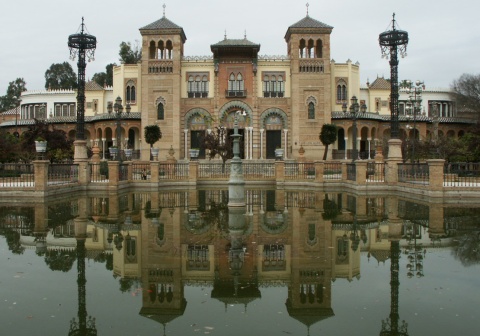 The Province of Sevilla consists of 105 towns
| | |
| --- | --- |
| Aguadulce | Guillena |
| Alanis | Herrera |
| Albaida del Aljarafe | Huevar del Aljarafe |
| Alcala de Guadaira | Isla Mayor |
| Alcala del Rio | La Algaba |
| Alcolea del Rio | La Campana |
| Algamitas | La Lantejuela |
| Almaden de la Plata | La Luisiana |
| Almensilla | La Puebla de Cazalla |
| Arahal | La Puebla de los Infantes |
| Aznalcazar | La Puebla del Rio |
| Aznalcollar | La Rinconada |
| Badolatosa | La Roda de Andalucia |
| Benacazon | Las Cabezas de San Juan |
| Bollullos de la Mitacion | Las Navas de la Concepcion |
| Bormujos | Lebrija |
| Brenes | Lora de Estepa |
| Burguillos | Lora del Rio |
| Camas | Los Corrales |
| Canada Rosal | Los Molares |
| Cantillana | Los Palacios y Villafranca |
| Carmona | Mairena del Alcor |
| Carrion de los Cespedes | Mairena del Aljarafe |
| Casariche | Marchena |
| Castilblanco de los Arroyos | Marinaleda |
| Castilleja de Guzman | Martin de la Jara |
| Castilleja de la Cuesta | Montellano |
| Castilleja del Campo | Moron de la Frontera |
| Cazalla de la Sierra | Olivares |
| Constantina | Osuna |
| Coria del Rio | Palomares del Rio |
| Coripe | Paradas |
| Dos Hermanas | Pedrera |
| Ecija | Penaflor |
| El Castillo de las Guardas | Pilas |
| El Coronil | Pruna |
| El Cuervo de Sevilla | Salteras |
| El Garrobo | San Juan de Aznalfarache |
| El Madrono | San Nicolas del Puerto |
| El Pedroso | Sanlucar la Mayor |
| El Real de la Jara | Santiponce |
| El Ronquillo | Sevilla |
| El Rubio | Tocina |
| El Saucejo | Tomares |
| El Viso del Alcor | Umbrete |
| Espartinas | Utrera |
| Estepa | Valencina de la Concepcion |
| Fuentes de Andalucia | Villamanrique de la Condesa |
| Gelves | Villanueva de San Juan |
| Gerena | Villanueva del Ariscal |
| Gilena | Villanueva del Rio y Minas |
| Gines | Villaverde del Rio |
| Guadalcanal | |
Acsentra
in
Lora de Estepa
We specialise in selling and renting properties throughout Spain and in particular Andalucia and the Costa Blanca. We focus our efforts on what our experience has enabled us to provide to you in a professional, effective way. Thus, whatever your requirements, we are able to offer access to our network of professionals who can advise you on all aspects of buying, building, renovating or renting your property. We understand that buying property can be stressful, particularly if you are not based in the country you are buying. If you want to pick our brains, go ahead; and if you fancy a chat call in to see us. Acsentra is made up of a team of Spanish, English, German and French speakers. We also have access to Spanish lawyers and advisors who speak very good English.
Wedding Photographer & Videographer Andalucia
in
Sevilla
Wedding Photographer & Videographer. Covering Andalucia, Costa Del Sol from Almeria to Seville and Gibraltar

Bienal de Flamenco
in
Sevilla
Site about the Flamenco festival in Seville, sadly the Spanish information isn't up to much, and the English pages are mainly blank... but you may be able to find something there...
We currently list 6 properties for sale in Sevilla province.

Just one example...
2 bedroom Property in La Campana
Ref: 61145
- Originally a three bedroom townhouse, now converted into a large two bedroom, two bathroom property with spacious kitchen/diner on first floor, lounge/fireplace leading out onto private terrace, totally modern and renovated...
Price : 225,000 Euros